Hakuba Loftet
A commanding new build in the heart of Misorano Forest — Equal parts Scandinavian style and Japanese simplicity
CHALET DETAILS
Location – Misorano/Echoland
Sleeps – 10 (+2)
Bedrooms – 4
Bathrooms – 3
The Chalet
Nestled in the wooded side-streets of Misorano Forest, Hakuba Loftet represents the new standard in 4-bedroom accommodation for Hakuba Valley. Developed by the owners of Hakuba Huset, Hakuba Stugan and Hakuba Boden, painstaking thought went into designing every aspect of this stunning new build. Guests will want for nothing with exceptional amenities, an abundance of facilities and a level of simplicity and comfort that will elevate their stay, surrounded by the natural beauty of the incredible Hakuba Valley.
Hakuba Loftet is located a few minutes walk from Echoland, the dining and entertainment hub of Hakuba Valley. Echoland boasts a large array of traditional Japanese restaurants while also catering to those perhaps craving some diversity with Mexican, Korean BBQ and Italian offerings to name a few. Hakuba Valley's shuttle bus system is both extensive and timely allowing many visitors to do away with rental cars entirely. Hakuba Loftet is located less than 100m from the main shuttle stops, allowing guests full freedom to explore all major ski resorts during their stay.
In building Hakuba Loftet, no expense was spared to ensure guests are provided with state of the art entertainment facilities and all the latest western amenities. As diehard skiers whose kids have grown up and flown the coop, the owners of Hakuba Loftet designed the chalet as a winter getaway for themselves and their equally snow-crazed friends. As such, the chalet was designed to accommodate 10 adults in absolute comfort with the option of sleeping another two adults on the comfortable double sofa bed. Whether it be recuperating after a hard day on the slopes or taking that inevitable mid-stay day-off when the legs simply won't obey, Hakuba Loftet meets the needs of all with large communal spaces and a fully featured western kitchen. So whether you're a die-hard snow fiend up at first light to stake out those fresh tracks, or a skier that tends to take a more leisurely approach, you'll find everything you need at Hakuba Loftet.
living AREAS
Meticulous care was put into designing Hakuba Loftet's communal spaces. The downstairs living area is a huge open plan space incorporating the lounge room, dining area and kitchen and provides more than enough space for 12 adults to lounge around over a few local beers/sake and share stories of the day's powder exploits.
If cooking is your thing, the induction cooktop and electric oven will allow you to take full advantage of the beautiful fresh produce available in the Hakuba Valley. There is a huge fridge with inbuilt ice-maker, make prepping meals a breeze. Meanwhile, the large dishwasher is there for you to shove your dishes as the tribe scrambles to get out the door in the morning for first tracks.
The living areas are beautifully appointed with a firm focus on comfort and space. Guests will find everything they need to make their stay comfortable and enjoyable. There is a flat screen TV, with accompanying Amazon Fire TV, allowing you to watch the latest movies and TV shows. Or listen to some tunes on the wireless HiFi speaker. Needless to say, the chalet is also equipped with Japan's blazing-fast broadband internet and WiFi.
BEDROOMS
Hakuba Loftet is equipped with three spacious king-size bedrooms, and a bunk bed room with four large single bunks, allowing 10 adults to reside in absolute comfort and privacy. There is also the option for two more adults to sleep on the pull-out double sofa bed in the upstairs mezzanine. Each bedroom has a large window offering views into Misorano Forest. Each of the three king beds that can be easily separated into two large single beds to accommodate singles or children.
BATHROOMS
Hakuba Loftet features three separate bathrooms, each equipped with toilet and shower facilities to ensure there is no delay in the early morning rush to get out the door. One of the bathrooms is equipped with a Japanese bath to help you soothe your aching muscles after a hard day on the slopes.
OUTDOOR FACILITIES
Leading to the front entrance is a large deck, making the perfect setting for outdoor feasts during the spring/summer months.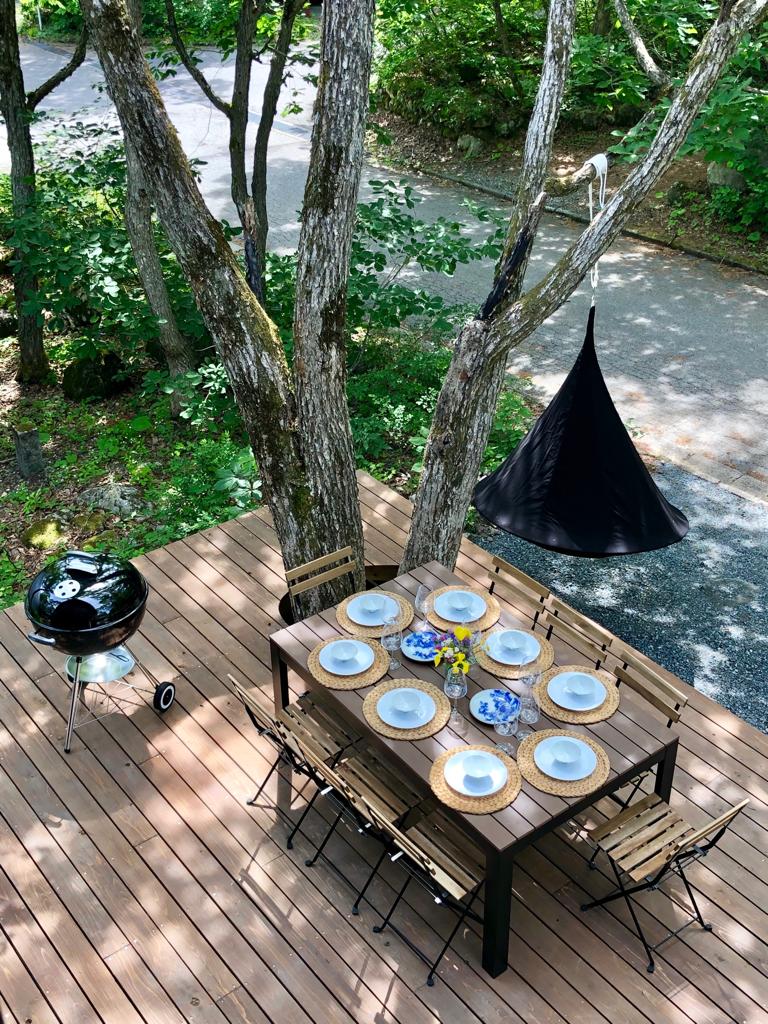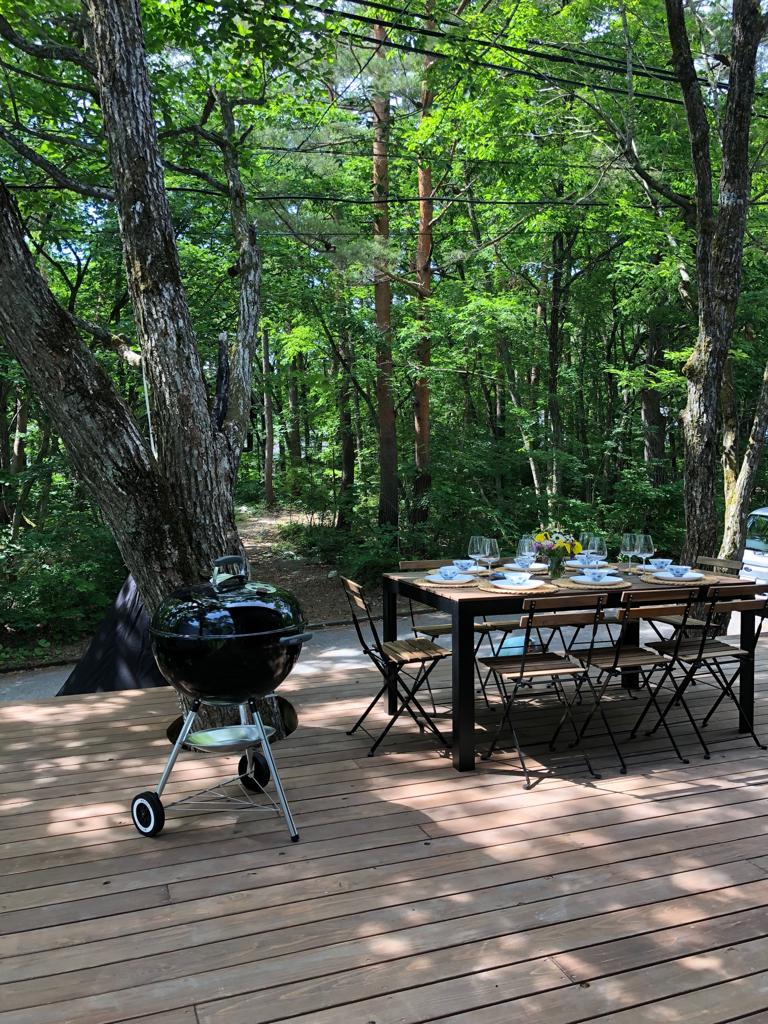 FACILITIES
Broadband internet + WiFi
Flat screen TV
Amazon Fire TV
Wireless Hi Fi speaker
Powerful heating system
Washer/dryer, iron, ironing board
Hairdryers
Vacuum cleaner
Oven
Dishwasher
Kettle, toaster
Nespresso coffee machine (complimentary capsules)
Rice cooker, blender
AMENITIES
Bedding
Towels
Shampoo, conditioner, body soap
Dish washing liquid
Laundry detergent
Kitchen towel, toilet paper
Golden week holiday (27 Apr – 5 May) — ¥65,000
Summer holiday (13 Jul – 31 Aug) — ¥65,000
Winter value (1–17 Dec, 1–31 Mar) — ¥90,000
Winter peak (18 Dec – 29 Feb) — ¥120,000
Low season (other times) — ¥50,000
Above rates exclude Japanese consumption tax (10% from 1 October 2019), which will be added. Free transfers from/to Hakuba bus or train station on your days of arrival and departure are included, as well as regular shopping trips to the supermarket during your stay.
Location
Hakuba Loftet is located in Misorano Forest, just a few minutes walk from the dining and entertainment hub of Echoland. Free shuttle buses to all of the main resorts in the area pick up close to the house — just one minute's walk away. From there you can take buses to Hakuba Goryu (both Escal Plaza and Iimori areas), Hakuba 47, Happo-one, and Iwatake resorts, giving you great flexibility to explore all of what Hakuba has to offer.
In the late afternoons and evenings, there's also the Genki-Go shuttle bus, which has routes all around town — convenient for visiting the supermarket or bars and restaurants in other areas.
There is an onsen (Japanese hot spring) in a hotel just a few minute's walk from the chalet — great way to relax after a day on the slopes.