Hakuba Huset
A stunning, four-bedroom chalet in Misorano, close to Echoland.
An elegant blend of Japanese and Scandinavian styles.
CHALET DETAILS
Location – Misorano/Echoland
Sleeps – 10 (+2)
Bedrooms – 4
Bathrooms – 4 (+2 separate toilets)
The Chalet
Hakuba Huset is the new standard in luxury snow accommodation in the beautiful village of Hakuba, Nagano — a world-class ski destination and home to the 1998 Winter Olympics. The chalet is located in Misorano, a few minutes walk from Echoland, the vibrant and spiritual heart of the Hakuba ski town. Free shuttle buses to all the ski slopes in the area will pick you up just a couple of minutes walk from the chalet, giving you complete freedom to explore all the major resorts in the Hakuba valley during your stay.
Extending over three floors, the chalet features three double/twin bedrooms and an additional six bed bunk room — accommodating a maximum of 12 guests.
In renovating the original 1970's Japanese-style chalet, no expense was spared to ensure guests are provided with state of the art entertainment facilities and all the latest western amenities. Along with plenty of storage space, the lodge also features a tuning room where you can tweak you gear to suit the conditions.
As lifelong skiers, the owners understand the importance of having a space in which to recuperate after a hard day on the slopes and the lodge has been designed accordingly. Built first and foremost as a family home, Hakuba Huset features large communal spaces outfitted with plush sofas, along with a fully featured western kitchen.
So whether you're a die-hard snow fiend up at first light to stake out those fresh tracks, or a skier that tends to take a more leisurely approach, you'll find everything you need at Hakuba Huset.
Elegant and spacious living areas
Upon entering the living room on the first floor, the inviting high-ceiling room commands your attention, luring you to the circle of couches and armchairs covered in furs and blankets. The tastefully furnished living room is the heart of the house. Many original features have been retained — complemented by a blend of modern and antique furnishings and ornaments.
Off to the left is the open plan kitchen appointed with all the necessary utilities to ensure you spend less time doing the dishes and more time on the slopes. There is a massive fridge/freezer with built-in ice maker and plenty of storage space. There is a ultramodern sleek induction hob set into the countertop. You will also find every appliance you'll need.
The large dining table in the separate dining room encourages family dining and offers an expansive southern view reaching to Hakuba 47 on bluebird days.
You will find everything you need to make your stay comfortable and enjoyable. There is a flat screen TV and an Apple TV allowing you to watch the latest movies and TV shows. Or listen to some tunes on the wireless HiFi speaker. Needless to say, the chalet is also fully wired with blazing-fast broadband internet and WiFi.
Stylish bedrooms
The chalet has four bedrooms: three double/twin rooms, and a bunk room accommodating a total of 10 persons in comfort, and two pullout trundle beds for extra kids.
BEDROOM 1 (MASTER)
Located on the first floor, next to the living room, the master bedroom offers the most self-contained privacy of all the bedrooms in Hakuba Huset, featuring an ensuite with toilet and shower. With large eastern facing windows, the room is bathed in morning light - though every room is equipped with window blinds for those that enjoy their morning sleep-ins.
The king size bed, like every bed in Hakuba Huset, can be separated to create two single beds. A king size topper mattress is also provided to ensure guests get the best night's sleep possible.
BEDROOM 2 (double/twin)
Located on the second floor, at the back of the house, bedroom 2 has a king bed that can be separated into two single beds for maximum flexibility.
During the renovation, the lowered ceiling was removed to expose the soaring vaulted roof, lending a sense of light and space.
BEDROOM 3 (double/twin)
Also located on the second floor, at the front of the house, bedroom 3 has a king bed that can be separated into two single beds for maximum flexibility. There are large windows, bathing the room in light. The front window offers views to Hakuba 47 on clear days.
Like bedroom 2, this room also has a vaulted ceiling with massive exposed beams, showing the structure of the house.
BEDROOM 4 (bunk room)
At the top of the house, the bunk room boasts beautiful wooden paneling and exposed beams and features a shower ensuite with basin and vanity. There are four bunks, and an additional two trundle beds for extra kids. The room also has a TV that allows the bunk room to double as a second entertainment area or childrens' getaway so the adults can unwind with après-ski drinks.
While the bunk room is a perfect children's space, it is also spacious enough to accommodate 4 adults in comfort, or up to 6 when using the 2 extra trundle beds.
Beautiful Bathrooms
Hakuba Huset features four bathrooms and two separate toilets. On the ground floor, there is the main bathroom featuring a deep bath and walk-in shower room. Next door, there is a second shower room, and also a separate toilet. On the first floor, the master bedroom has a full ensuite bathroom and toilet, offering complete privacy. On the second floor, there is a separate toilet, between bedrooms 2 and 3, and the bunk room has its own ensuite shower room. So no matter how many guests stay, there are ample bathrooms, shower rooms, and toilets for the comfort of everyone.
Outdoor dining
Stepping out from the living room through the massive patio doors, there is a raised deck with a dining table and chairs, for enjoying family breakfasts or BBQs.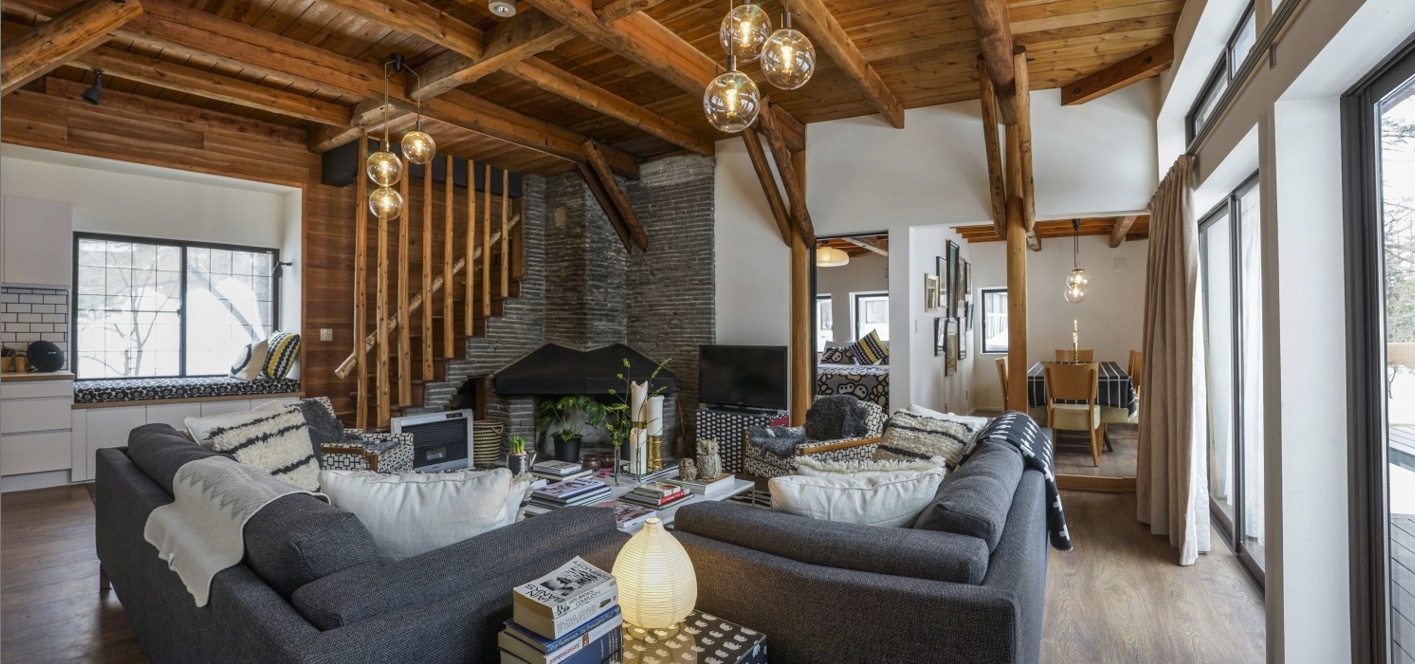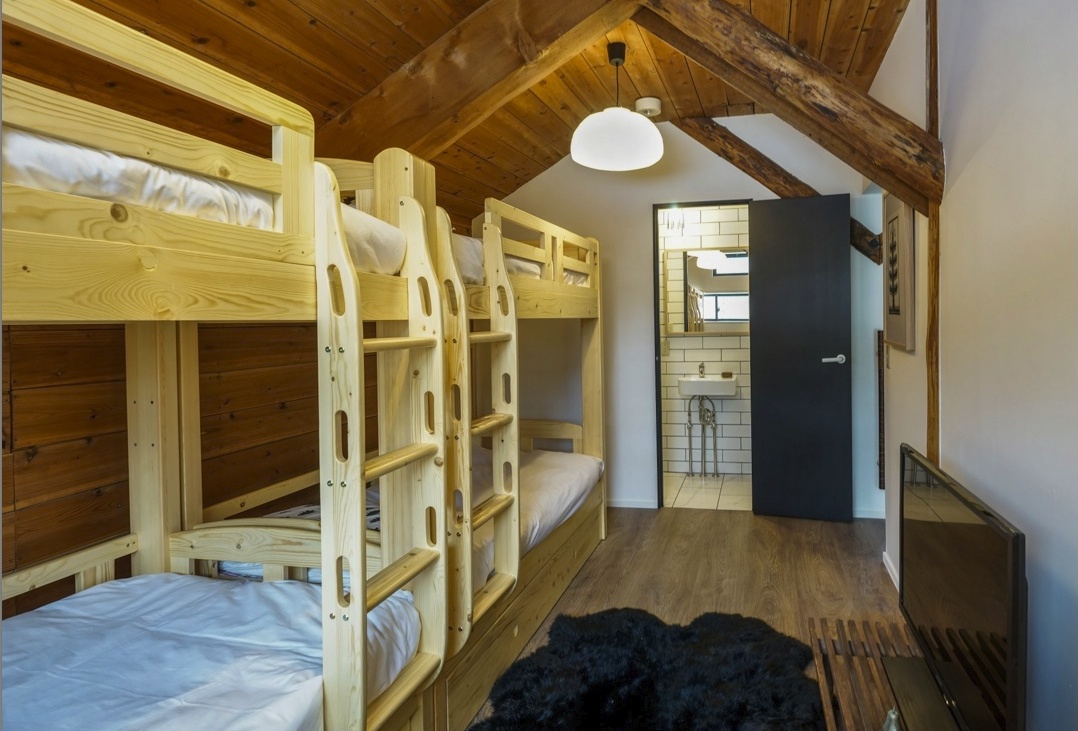 FACILITIES
Broadband internet + WiFi
Flat screen TVs
Apple TVs
Hi Fi speaker
Powerful heating systems
Washer/dryer
Hairdryers
Iron, ironing board
Vacuum cleaner
Dishwasher
Oven/microwave, kettle, toaster
Nespresso coffee machine (complimentary capsules)
Filter coffee machine
Blender
BBQ
NOTE: Use of fireplace is strictly prohibited.
AMENITIES
Bedding
Towels
Shampoo, conditioner, body soap
Dish washing liquid
Laundry detergent
Kitchen towel, toilet paper
Golden week holiday (27 Apr – 5 May) — ¥65,000
Summer holiday (13 Jul – 31 Aug) — ¥65,000
Winter value (1–17 Dec, 1–31 Mar) — ¥90,000
Winter peak (18 Dec – 29 Feb) — ¥120,000
Low season (other times) — ¥50,000

Above rates exclude Japanese consumption tax (10% from 1 October 2019), which will be added. Free transfers from/to Hakuba bus or train station on your days of arrival and departure are included, as well as regular shopping trips to the supermarket during your stay.
Location
Hakuba Huset is located in Misorano Forest, just a few minutes walk from the dining and entertainment hub of Echoland. Free shuttle buses to all of the main resorts in the area pick up close to the house — just 100 meters away. From there you can take buses to Hakuba Goryu (both Escal Plaza and Iimori rest houses), Hakuba 47, Happo-one, and Iwatake resorts — giving you great flexibility to explore all of what Hakuba has to offer.
In the late afternoons and evenings, there's also the Genki-Go shuttle bus, which has routes all around town — convenient for visiting the supermarket or bars and restaurants in other areas.
There are two onsen (Japanese hot springs) in hotels within a couple of minutes walk of the cottage. A great way to relax after a day on the slopes, and just a short stroll home afterwards.