Muskoka House
Stunning, brand new architect-designed chalet. A perfect fusion of East meets West, snuggled within a pristine forest setting.
CHALET DETAILS
Location – Misorano/Echoland
Sleeps – 4 (+2)
Bedrooms – 2
Bathrooms – 1
★★★★★ See reviews...
The Chalet
Nestled in the pristine surroundings of Misorano Forest, Muskoka House has been architecturally designed and individually handcrafted by a team of local craftsmen as the perfect fusion of East meets West. Minimalist on the surface, Muskoka House has been envisioned as the perfect family retreat for an active family. The two-story cabin features a classic design with a high-pitched roof and chic black exterior cladding inspired by modern ski cabins and chalets featured in the pages of Architectural Digest. No expense has been spared to present a cabin with wow-factor. From the imposing doorway to the impressive back deck to the discreet, muted lighting, Muskoka House cries out refinement and serenity.
living AREAS
Taking its cue from the finest Alpine retreats in North America and Europe, Muskoka House has been uniquely designed with comfort and families in mind. The second-floor living room features a soaring vaulted ceiling highlighted by tongue-in-groove wood paneling, huge picture windows and walls specially rendered by a local craftsman using natural materials. The woodwork, again handcrafted by local carpenters, is spectacular -- rich in appearance and smooth to the touch. The minimalist feel is punctuated by touches of natural materials, whether it be the rustic feel of the outside cladding or the handcrafted wooden shelving.
A modern kitchen outfitted in stylish black is fully equipped with new refrigerator and cooking stove. Picture windows offer a relaxing view from the kitchen to the neighboring forest. A huge dining-room table has been custom-built with locally sourced wood using the talents of a local woodworker. Designed to easily accommodate six, the table has been built as the focal point for family gatherings -- the perfect spot for games night, intimate conversations and the exchanging of tales from the day's skiing.
The spacious living area has been designed for those wanting to stretch out and relax, with a comfortable, deep L-shaped sofa. All the comforts of home are at hand, including a brand new 50-inch LCD television, wireless Zeppelin Air sound system and accompanying Apple TV.
Even the lighting has been architecturally designed with discretion and a soft touch in mind to emphasize comfort, solitude and quiet.
BEDROOMS
Muskoka House is equipped with two spacious bedrooms, allowing four adults to comfortably reside in comfort and privacy. Two futons can be provided for an additional two guests if needed. Each bedroom features full-length picture windows offering stunning views of the backyard and no views of neighboring homes. Because Muskoka House sits on a large plot of land, the bedrooms are ensconced in the serenity of the surrounding forest. Each room features two large single beds that can be either placed together or kept separate for singles or children. A small alcove in the main bedroom provides enough room to accommodate a fifth guest. Each bedroom features one wall painted in a distinctive color, offering a sharp, modern feel to the surroundings. Sliding-glass doors in each bedroom open to a small outside seating area for more quiet and privacy.
BATHROOM
Muskoka House features a modern, airy bathroom equipped with toilet and shower facilities sitting just steps from the dry room for easy access after a long, hard day on the slopes. The bath/shower area has been designed in black tile using modern materials and finishes. Laundry facilities come equipped with a combined washer/dryer.
DRYROOM
Muskoka House has been designed with the active family in mind and features a fully-equipped dryroom next to the entrance for easy storage of snowboards, skis, helmets, gloves and skiwear.
OUTDOOR FACILITIES
Leading from the second-floor living room is a spectacular wooden deck overlooking a private forest setting. Nestled snuggling underneath an architecturally designed overhang, the deck affords ample protection from the winter chill. Enjoy a morning coffee while watching the sun dance across the forest floor. There is also a BBQ.
At the rear of the house, there is a beautiful secluded landscaped garden with a large wood deck where you can chill out during the days and watch the stars at night.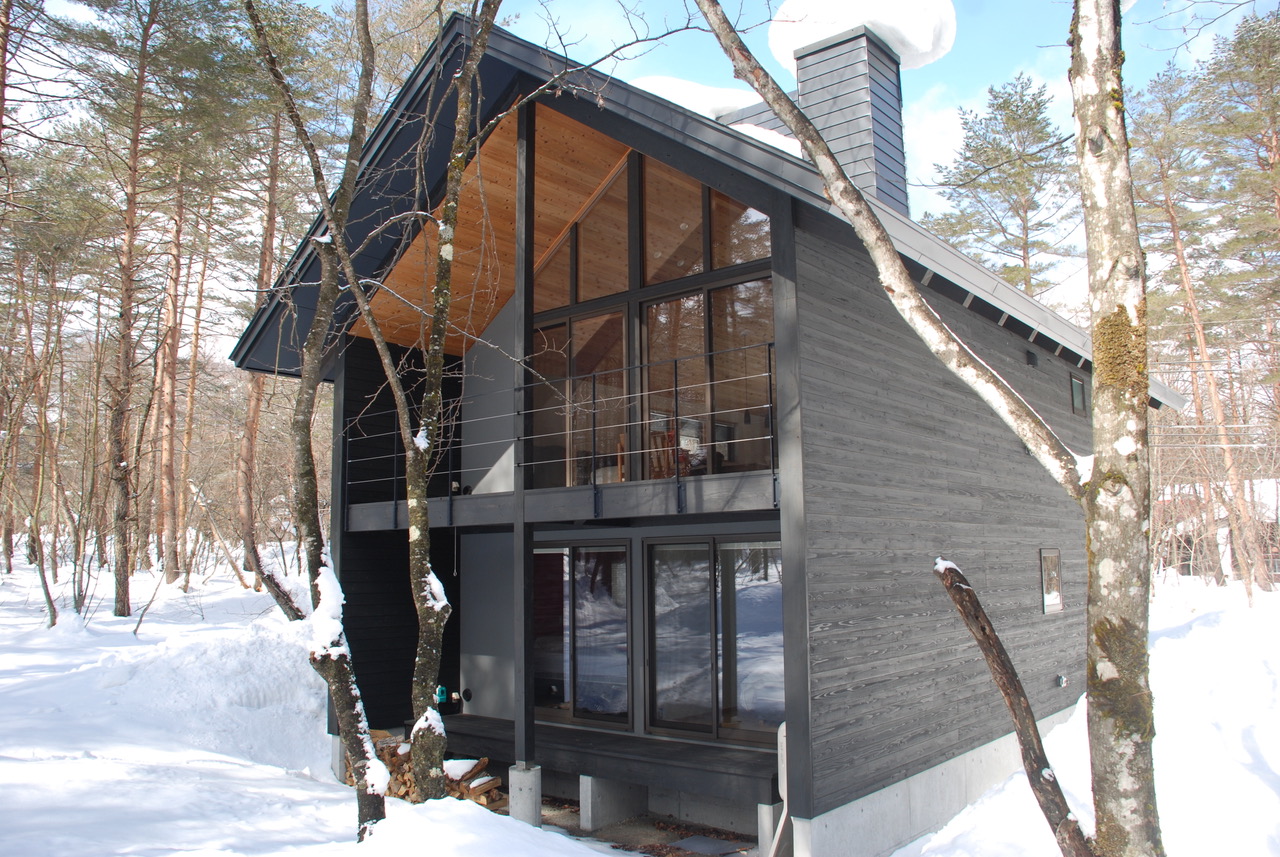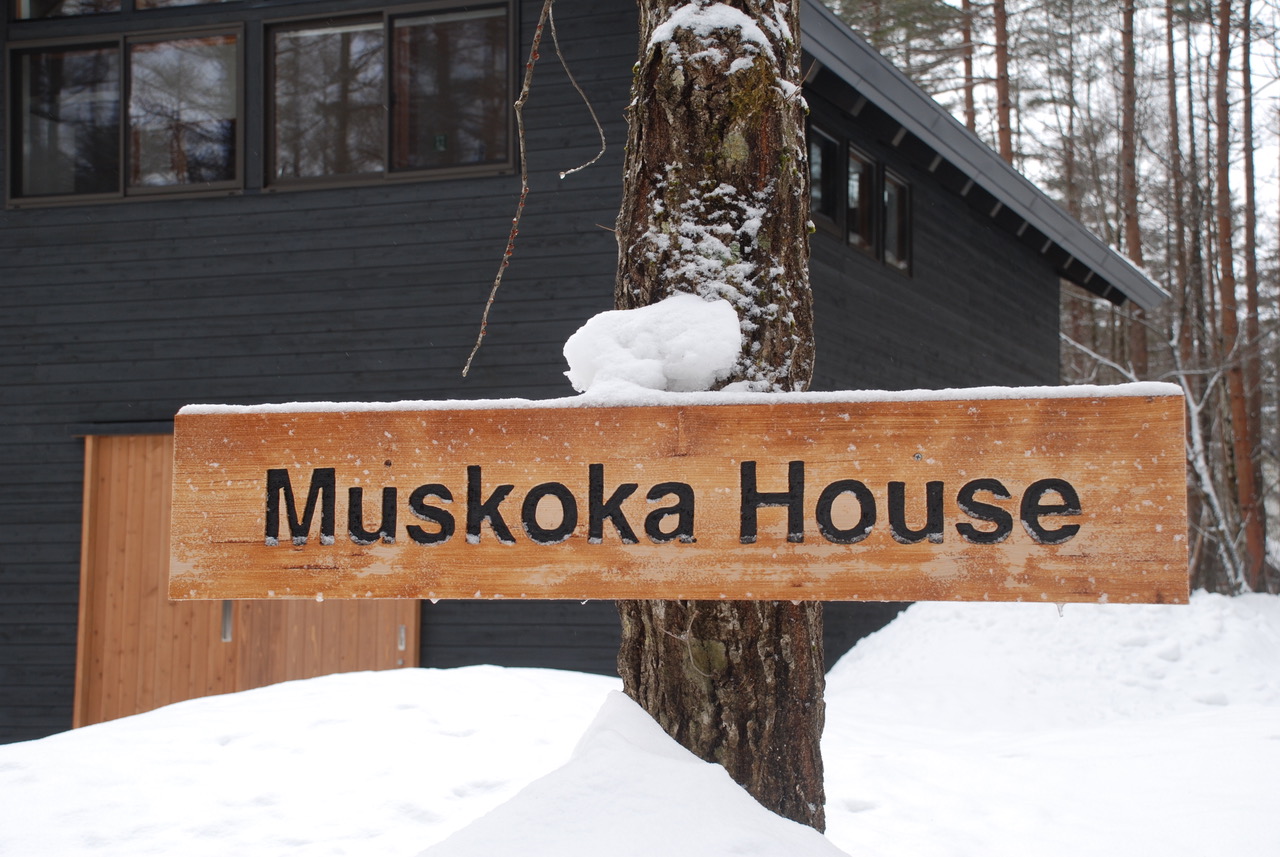 FACILITIES
Broadband internet + WiFi
Flat screen TV
Apple TV
Wireless audio system
Powerful heating system
Washer/dryer
Hairdryer, iron, ironing board
Vacuum cleaner
Oven
Dishwasher
Kettle, toaster
Coffee machine
Rice cooker, blender
Fans
NOTE: Use of log stove is strictly prohibited.
AMENITIES
Bedding
Towels
Shampoo, conditioner, body soap
Dish washing liquid
Laundry detergent
Kitchen towel, toilet paper
Golden week holiday (27 Apr – 5 May) — ¥39,000
Summer holiday (13 Jul – 31 Aug) — ¥39,000
Winter value (1–17 Dec, 1–31 Mar) — ¥45,000
Winter peak (18 Dec – 29 Feb) — ¥55,000
Low season (other times) — ¥29,000
Above rates exclude Japanese consumption tax (10% from 1 October 2019), which will be added. Free transfers from/to Hakuba bus or train station on your days of arrival and departure are included, as well as regular shopping trips to the supermarket during your stay.
Location
Muskoka House is located in Misorano Forest, just a few minutes walk from the dining and entertainment hub of Echoland. Free shuttle buses to all of the main resorts in the area pick up close to the house. From there you can take buses to Hakuba Goryu (both Escal Plaza and Iimori areas), Hakuba 47, Happo-one, and Iwatake resorts, giving you great flexibility to explore all of what Hakuba has to offer.
In the late afternoons and evenings, there's also the Genki-Go shuttle bus, which has routes all around town — convenient for visiting the supermarket or bars and restaurants in other areas.