Hakuba Cottage Yukimatsu
A three-bedroom, stylish cottage in Misorano, close to Echoland.
COTTAGE DETAILS
Location – Misorano/Echoland
Sleeps – 6
Bedrooms – 3
Bathrooms – 1 (+1 toilet)
★★★★★ Absolutely outstanding in every way
★★★★★ Great Stay - Again !
★★★★★ Absolutely perfect
★★★★★ Just brilliant
★★★★★ THE place to stay in Hakuba
The Cottage
Hakuba Cottage Yukimatsu is a stylishly renovated three-bedroom cottage surrounded by trees in the Misorano Forest, close to the cafes, restaurants, and bars of Echoland, and perfectly situated to explore all the major ski resorts in the area via the free shuttle buses which pick up close to the cottage.
The cottage is perfect comfortable accommodation for six people.
Refined living spaces
The elegantly furnished living/dining room has a vaulted ceiling and expansive plate-glass windows and patio doors offering a breathtaking view of the forest. A perfect place to luxuriate during your stay in Hakuba.
You will find everything you need to make your stay comfortable and enjoyable. Here, there is an entertainment centre second to none, loaded with the latest movies and TV shows — or bring your own and watch them on the region-free DVD player. Needless to say, the cottage is also fully wired with broadband internet and WiFi.
Powerful fan-assisted heating and an underfloor heated area in the living room keep you toasty warm.
The dining room leading off the main lounge is a cosy space for eating-in. The large table seats six comfortably.
The kitchen features a massive fridge/freezer with built-in ice maker and plenty of storage space. There is a gas hob set into the countertop. You will also find every appliance you'll need.
Also downstairs is a fully-tiled wet room with a deep bath and powerful shower, a vanity room, and a separate toilet. The bathroom, with its built-in air heating system, can even double as a drying room for your damp ski wear after a day on the slopes. There is a separate toilet, and also laundry facilities.
bedrooms
The cottage has three double bedrooms upstairs.
Bedroom 1
There is a comfortable king size bed. Crisp linens compliment the tasteful decor, which retains the original exposed posts in Japanese style. There are great views of the forest through the large windows wrapping around two sides of the room.
Bedroom 2
Located at the front of the house, this room has a queen bed that can be split into two singles for maximum flexibility.
Bedroom 3
Located at the back of the house, offering a view of the forest, this room also has a queen bed that can be split into two singles for maximum flexibility.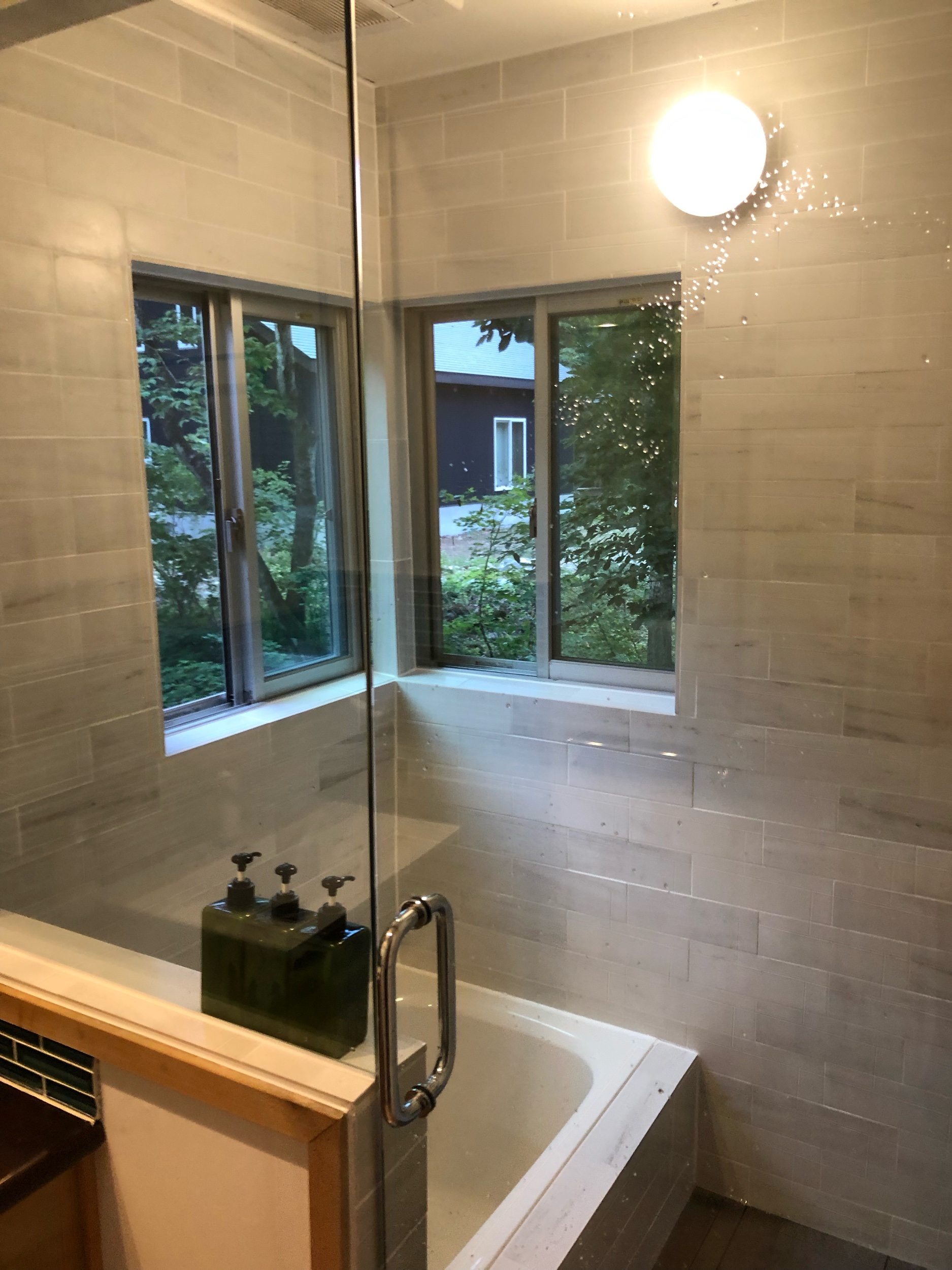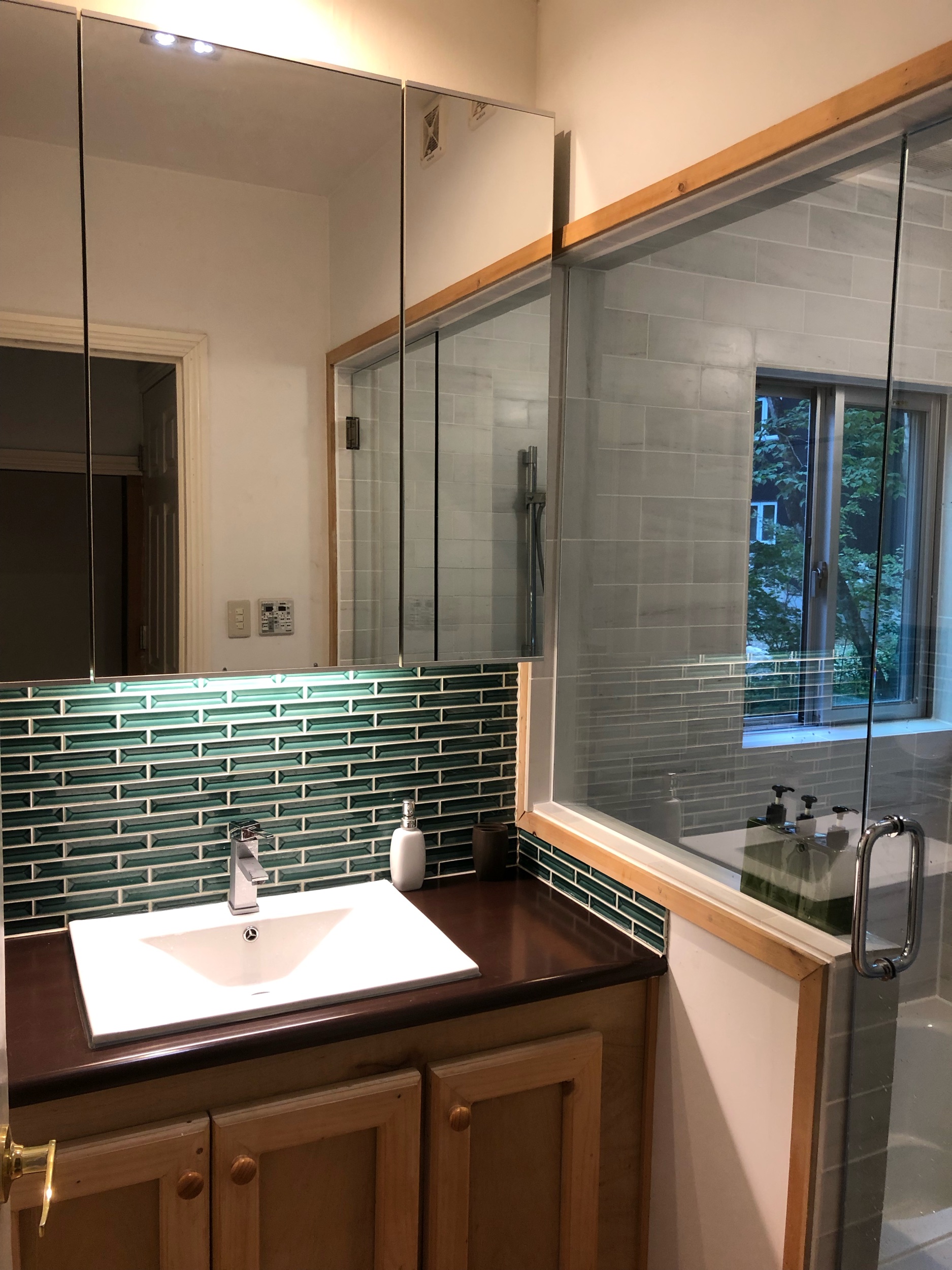 FACILITIES
Broadband internet + WiFi
Flat screen TV
Apple TV, loaded with movies and music
Region-free DVD player
Hi Fi
Powerful heating systems
Air conditioning
Washer/dryer
Hairdryer, iron, ironing board
Vacuum cleaner
Oven/microwave, kettle, toaster
Nespresso coffee machine
Filter coffee machine
Rice cooker, blender
AMENITIES
Bedding
Towels
Shampoo, conditioner, body soap
Dish washing liquid
Laundry detergent
Kitchen towel, toilet paper
Golden week holiday (27 Apr – 5 May) — ¥40,000
Summer holiday (13 Jul – 31 Aug) — ¥40,000
Winter value (1–17 Dec, 1–31 Mar) — ¥49,000
Winter peak (18 Dec – 29 Feb) — ¥59,000
Low season (other times) — ¥30,000
Above rates exclude Japanese consumption tax (10% from 1 October 2019), which will be added. Free transfers from/to Hakuba bus or train station on your days of arrival and departure are included, as well as regular shopping trips to the supermarket during your stay.
Location
Hakuba Cottage Yukimatsu is located in Misorano Forest, just a few minutes walk from the dining and entertainment hub of Echoland. Free shuttle buses to all of the main resorts in the area pick up close to the house — just 20 meters away and 200 meters away. From there you can take buses to Hakuba Goryu (both Escal Plaza and Iimori rest houses), Hakuba 47, Happo-one, and Iwatake resorts — giving you great flexibility to explore all of what Hakuba has to offer.
In the late afternoons and evenings, there's also the Genki-Go shuttle bus, which has routes all around town — convenient for visiting the supermarket or bars and restaurants in other areas.
There are two onsen (Japanese hot springs) in hotels within a couple of minutes walk of the cottage. A great way to relax after a day on the slopes, and just a short stroll home afterwards.